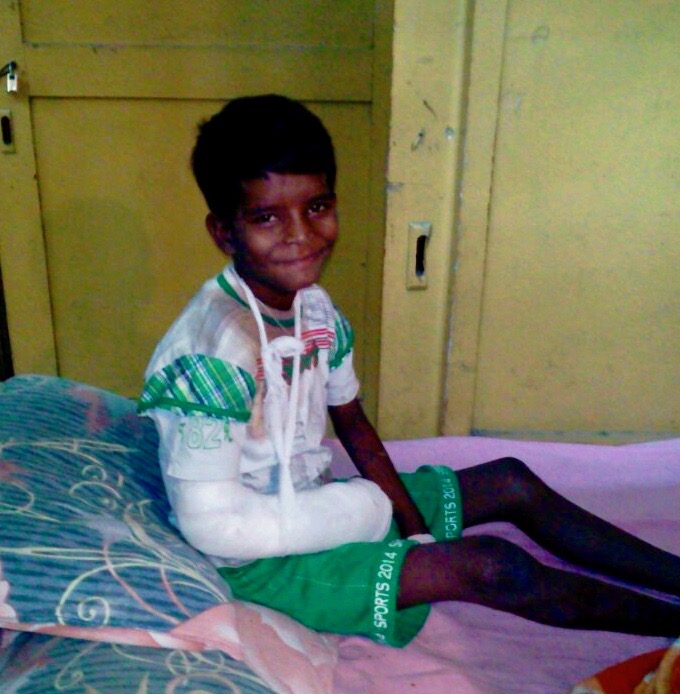 Helping Krish
On my recent visit to India I met 7 year old Krish for the first time. This little kid broke his arm when he fell down from a railing. Unfortunately he fell victim to an alleged unscrupulous 'phoney' doctor who treated him for a small fee and made his injury far worse. Krish has become the centre of media attention. On the 12th of October his story was featured on 'Good Morning India'. A translation of the news item follows;
*As per the news flash the little boy Krish was suffering from a severe problem, the public is giving all the credits to the organisation Project Help because no one has stood in the favour of this poor boy and only Project Help came up to help him with social and general awareness. A boy named Krish is suffering badly from gangrene and infection due to one unauthorised and fake doctor. The boy is being helped by this organisation. He stays at kashirampur Malla, everyone is saying that it is very unfortunate to see Krish's arm amputated permanently.*
*According to the Director of Project Help Ps. Amit Samuel said that the government should stand with this boy, but due to slang work of the government, Project Help stood up to help him. Even the Head officers and ministers are quiet and stayed back instead of helping Krish's devoured family, it's an unfortunate thing. Project Help made an effort towards this family and comforted them that they are not alone; Project Help is standing with them and help them in every possible way including finances also. In other hand the Head medical Officer Dr. Manish Agarwal (Pauri Gharwal) has said that he got this news through news papers and immediately took the action and informed this whole scenario to the chief Medical Officer (Dugadda Uttrakhand).*
The following update reports have been written by our friend and charity partner, Amit Samuel.
Krish aged 7 - needs emergency medical advice and attention
9th *October*
*I am feeling very sorrowful to tell you that one boy from our slums center is going through a sever painful situation . His name is KRISH and he is 7 years old. Few days before , he was playing with his friends and accidentally fell down from the railing and got his right hand broken. At that time his parents were at the work so the neighbor took him to an untrained and illegal practitioner for the treatment. The neighbor were illiterate and it is the worst dark patch on Indian society that most of the poor people are illiterate very severely.so that man put a bandage with some lime on his hand and due to reaction from lime and his arm sweat he got gangrene in his hand. Than His parents took him to a doctor and he advised them to amputate that childs right hand. His family is grieved and that boy is crying since he got this news. When I talked with KRISH, his tears were not stopping and I felt very sad. So I want you to pleasepray and think about him. Doctors haz also said that if this child gets a good and immediate proper medical help may be in delhi or in dehradun , his armcan be saved. But not sure 100%. *
12th October *As I have told you before the story of Krish a boy from our slums center, today me and my wife were praying and discussed with the doctor about this child. Krish needs an immediate help, the doctor of bijnor hospital has advised to admit him immediately because his hand is not working at all, his veins and nerves are totally damaged and the gangrene has reached to his bones. We have to admit him today in the hospital and the Doctor is saying to submit the admission fees that is rs. 15000/- advance today itself. Kindly pray and support.*
14th October
*First Surgery of the poor boy Krish has been done successfully but the doctors have said that it is very hard to say that will his hand work properly? The surgery was gone 6 hours last night and the doctor said that his veins and bone tissues have been destroyed by the lime reacted gangrene so badly that his hand will never have sensation in it again. But somehow they have managed the structure of his hand to be at the right place. Doctor has also said that his hand will never work properly. And now the doctor is advising the second plastic surgery in which they will cover the wound from his imputed skin. Poor Krish is in a critical situation. Please pray and support this poor kid Krish.*
-----------------------------------------------------------------------------
Please let us know if you can help Krish. We will keep you informed of any further updates. Donations can be made at www.kotdwarahelp.org
or by using the EFT details below.
*BSB: *812-170
*ACCOUNT NUMBER: *100122703
*ACCOUNT NAME: *RM & DJ Thomas INDIA
Please write *'Helping Krish' *in the reference section, and also include your name
Thank you so much.